Minefield Mobile
Minefield Mobile - minesweeper game for Windows CE & Windows Mobile.
How to play?
Select size of minefield, single field and number of mines, then click green arrow.
Game Options
Fields number from 25 to 400
Mines density from 15% to 30%
Field Size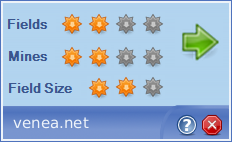 Touch Screen
Click to red part of field to set flag or green to reveal field. To remove flag click flag icon. When you click on revealed field and number of flagged neighbor fields is equal to number presented on clicked field all no flagged fields will be revealed.
Device Keys
Move active field (in black border) using keys: up, down, left, right or numeric keys: 2, 8, 4, 6.
To reveal fields use Enter key, Soft Key 1, Numeric Pad 1 or Numeric Key 5.
To set or remove flag use Soft Key 2 or Numeric Pad 3.
To use lifebuoy press Numeric Pad 7.
Press Numeric Pad 9 to show About Window.
Set correctly flags and reveal rest of fields to finish the game.
Top bar icons
Light bulb - reveal one field
Red ball - number of fields flagged / total number of mines
Timer - time of game
Supported Operating Systems
Windows CE / Windows Mobile
Requirement: .NET Compact Framework 2.0.
Screens
Windows Mobile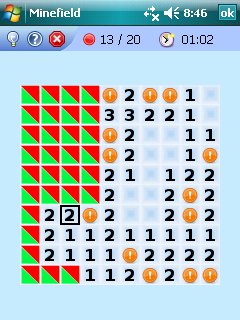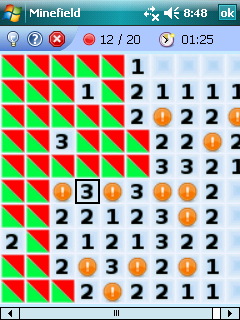 Windows CE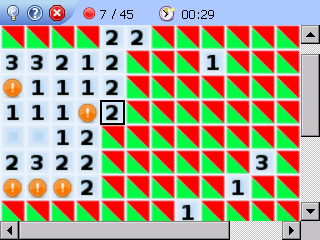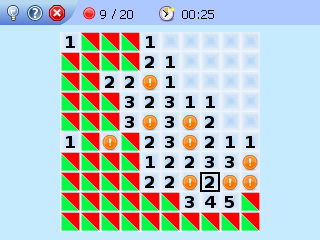 Credits
Icons: http://tango.freedesktop.org
License
Permission is hereby granted, free of charge, to any person obtaining a copy of this software without limitation the rights to use and copy. Modification, decompilation, disassembly, merge, sublicense and/or sell this software prohibited.
THE SOFTWARE IS PROVIDED "AS IS", WITHOUT WARRANTY OF ANY KIND, EXPRESS OR IMPLIED, INCLUDING BUT NOT LIMITED TO THE WARRANTIES OF MERCHANTABILITY, FITNESS FOR A PARTICULAR PURPOSE AND NONINFRINGEMENT. IN NO EVENT SHALL THE AUTHORS OR COPYRIGHT HOLDERS BE LIABLE FOR ANY CLAIM, DAMAGES OR OTHER LIABILITY, WHETHER IN AN ACTION OF CONTRACT, TORT OR OTHERWISE, ARISING FROM, OUT OF OR IN CONNECTION WITH THE SOFTWARE OR THE USE OR OTHER DEALINGS IN THE SOFTWARE.
Download
Go to downloads.