Screenshot Mobile
Screenshot Mobile is a little screen shots (screen capture, screen dump, snapshot) tool for Windows Mobile & Windows CE.
Application record the image displayed on the screen to a file. Output formats are: PNG (default), JPG, BMP.
How to use it?
When you click Capture, application window disappear to a few seconds. It's time for you to prepare screen view you wish to capture.
After this time screen will be captured and application window will appear. To save screen to a file press Save, select location, filename and press OK.
If you wish preview created screen click Preview. To close preview just click at any point of screen.
Settings
Wait time - time before taking screen (countdown after form disappear).
Beep - sound signal played every second before taking screen (start from parameter). Doubled beep mean "countdown finished, screen is taking now".
Output format: BMP, JPG, PNG.
Supported Operating Systems
Windows Mobile / Windows CE
Requirement: .NET Compact Framework 2.0.
Screens
Windows CE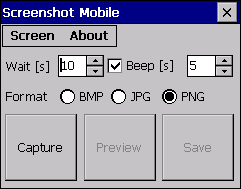 Windows Mobile 6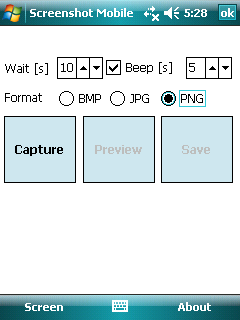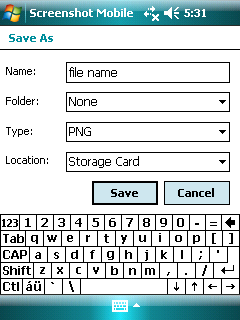 Windows Mobile 5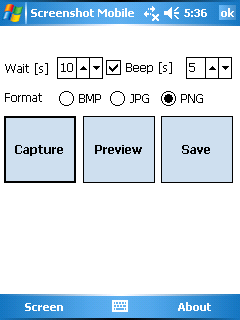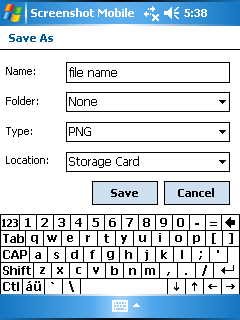 Credits
Icons: http://tango.freedesktop.org
License
Permission is hereby granted, free of charge, to any person obtaining a copy of this software without limitation the rights to use and copy. Modification, decompilation, disassembly, merge, sublicense and/or sell this software prohibited.
THE SOFTWARE IS PROVIDED "AS IS", WITHOUT WARRANTY OF ANY KIND, EXPRESS OR IMPLIED, INCLUDING BUT NOT LIMITED TO THE WARRANTIES OF MERCHANTABILITY, FITNESS FOR A PARTICULAR PURPOSE AND NONINFRINGEMENT. IN NO EVENT SHALL THE AUTHORS OR COPYRIGHT HOLDERS BE LIABLE FOR ANY CLAIM, DAMAGES OR OTHER LIABILITY, WHETHER IN AN ACTION OF CONTRACT, TORT OR OTHERWISE, ARISING FROM, OUT OF OR IN CONNECTION WITH THE SOFTWARE OR THE USE OR OTHER DEALINGS IN THE SOFTWARE.
Download
Go to downloads.