Terminal CE
Communication terminal for Windows CE & Windows Mobile - systems with .NET Compact Framework. Terminal allow to send and receive data via serial COM port (USART / UART / RS-232 / RS-485).
How to use it?
Click Options / Connection, then set connection options. Select port and other parameters. To connect use Terminal / Connect. Display Keyboard using Options / Keyboard. To send data use Send button. If you wish to save received data to a file click Terminal / Save Received. To clean received data use Terminal / Clean.
Settings
Connection Settings (Options / Connection)
Available options:
Port name (COM1, COM2, COM3, COM4, …)
Baud Rate
Data Bits
Parity mode (none, even, mark, odd, space)
Encoding (ASCII, UTF-7, UTF-8, Unicode)
Stop Bit (0, 1, 1.5, 2)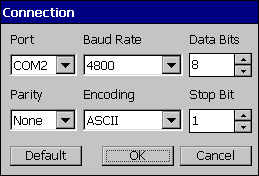 Application Settings
Echo - each character you send will be displayed at receive area.
Send Line - data will be send with new line characters at end.
Auto Clean - if parameter > 0 then when count of received characters will be grater than parameter, data at received area will be cleared.
Scan Period - period used for periodically check port for incoming data. If parameter is equal 0 scanning port for new incoming data is disabled. Incoming data can be received manually by using option Terminal / Read.
Restore Defaults - default application and connection options will be applied.
Keyboard - show / hide Input Panel.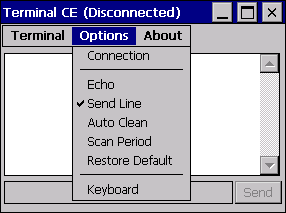 When application is closing, settings are saved to file. When you run again application, settings are restored from file.
Supported Operating Systems
Windows CE / Windows Mobile
Requirement: .NET Compact Framework 2.0.
Screens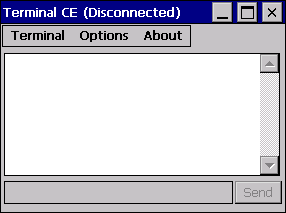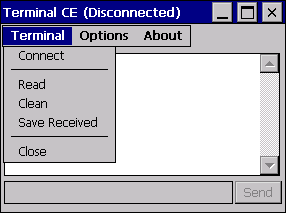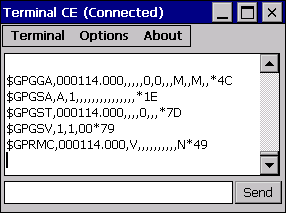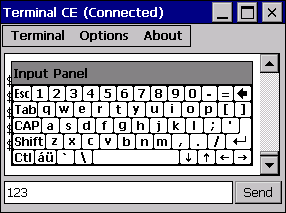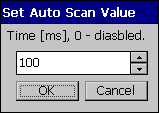 Credits
Icons: http://tango.freedesktop.org
License
Permission is hereby granted, free of charge, to any person obtaining a copy of this software without limitation the rights to use and copy. Modification, decompilation, disassembly, merge, sublicense and/or sell this software prohibited.
THE SOFTWARE IS PROVIDED "AS IS", WITHOUT WARRANTY OF ANY KIND, EXPRESS OR IMPLIED, INCLUDING BUT NOT LIMITED TO THE WARRANTIES OF MERCHANTABILITY, FITNESS FOR A PARTICULAR PURPOSE AND NONINFRINGEMENT. IN NO EVENT SHALL THE AUTHORS OR COPYRIGHT HOLDERS BE LIABLE FOR ANY CLAIM, DAMAGES OR OTHER LIABILITY, WHETHER IN AN ACTION OF CONTRACT, TORT OR OTHERWISE, ARISING FROM, OUT OF OR IN CONNECTION WITH THE SOFTWARE OR THE USE OR OTHER DEALINGS IN THE SOFTWARE.
Download
Go to downloads.